Daesang where leading new food culture!
Based on the domestic representative general food brand 'Chungjungone' adapted since 1996, Daesang produces and sells traditional bean pastes such as 'Soonchang', 'Hatsal Dameun', etc., seasonings of 'MIWON', 'Gamchimi', "Matsunsaeng', etc., agro-fishery food like vinegar and fish sauce, fresh food including Kimchi and tofu, western food, deli, frozen food and more. Moreover, Daesang processes the business to grow as the Korea's best 'general fresh food company', and put continuous efforts for the globalization of Korean food based on the customer satisfaction management.
Various brands of Daesang from Miwon which has numerous modifiers such as No.1 domestic
fermented seasoning, representative seasoning and more, and legends to Chungjungone and
Jongga represents the Korean food life.
Daesang integrates the food specialist 'Chungjungone' and the center of taste 'Jongga'
in 2017, produces healthy and taste to globalize Korean food.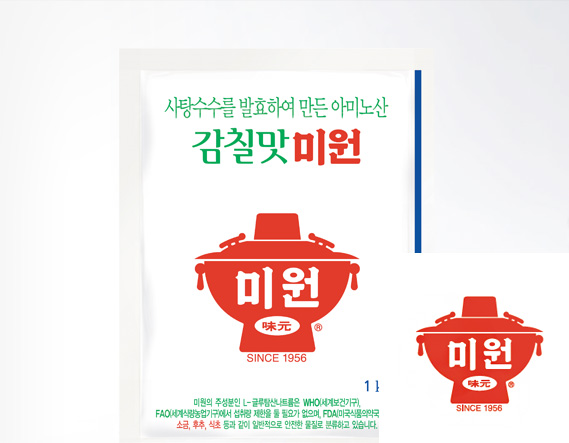 Miwon
Daesang's pride, miwon has been a national
representative of fermented seasoning
for over 60 years.
Miwon, born in 1956 is a representative of national fermented
seasoning that adds rich flavor in every meal. Miwon is
celebrating its 60th anniversary and is being reexamined as a
national seasoning for younger generations, with products such
as savory Miwon and Dasima Miwon.
Miwon Brand Site