Major Business
Daesang puts love and sincerity to think of the health of family.
Food Business
Daesang where leading new food culture!
Based on the domestic representative general food brand
'Chungjungone' adapted since 1996, Daesang produces
and sells traditional bean pastes such as 'Soonchang',
'Hatsal Dameun', etc., seasonings of 'MIWON', 'Gamchimi',
'Matsunsaeng', etc., agro-fishery food like vinegar
and fish sauce, fresh food including Kimchi and tofu,
western food, deli, frozen food and more.
Moreover, Daesang processes the business to grow as
the Korea's best 'general fresh food company',
and put continuous efforts for the globalization of
Korean food based on the customer satisfaction management.
Daesang launched the B2B specialty food ingredient brand
with the best system, and provides the Total Solution Service.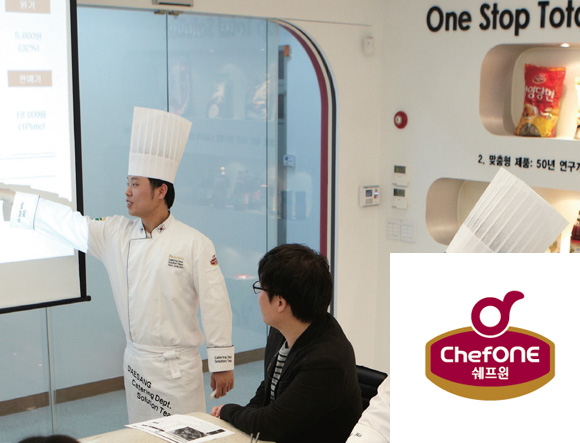 ChefOne
Total solution to best food, ChefOne
ChefOne is a catering specialty brand of Daesang Corporation, a comprehensive food company representing Korea. ChefOne is committed to serve as the best food distribution specialist and a smart business partner by providing one-stop solutions for all kinds of food ingredients needed in the kitchen. If you work with Chef Won, you too can be No.1 chef.
Go to Site
SALES
Understand customer needs and market information
-

Develop customized products

-

Supply the recipe of various products
CHEF
Chefmanship Service; Develop new menu, and solution activities
-

Professional chefs create and consult the menu for each client

-

Demonstrate various dishes including Korean/Japanese/Western cuisines
MARKETING
Commercialize, adjust price, promote, report trend
-

Customer-centric marketing
R&D
Technical Service; Customized product development, proposal and solution activities
-

Technical service for each client

-

Secure and develop professional personnel that are adequate for sales channels